Born in Doncaster in 1948, David headed an engineering design team until 1988 when he became a full time painter. He was elected to the Royal Society of Marine Arts in 1983 and a member of the Royal Institute of Oil Painters in 1988.
In 1992 David won the first prize in the Singer & Friedlander/Sunday Times Watercolour Competition and the second prize in 1997.
Essentially a 'plein air' and figurative painter, working in both oils and waterclours, he observes transient lighting conditions and effects of atmosphere in his compositions. David is the author of 'A Light Touch, the Landscape in Oils' and 'The Landscape in Watercolour – A Personal View' both published by David & Charles. Two APV films of the same titles are on video format and form part of a television series. A third APV video 'Light Effects in Watercolour' was released in October '97, and a fourth film – 'Light in the Landscape' was released in November 2003. David is also featured on a TV series – Connecticut Coast to Coast, USA '96 broadcasting. A third book and a fifth film, both entitled 'Light and Mood in Watercolour' were published by Pavilion Books and APV Films respectively during 2005. A fourth book 'Capture the Moment in Oils' was published in 2007, with a film of the same title by APV Films. A fifth book on both oils and watercolours and seventh film by APV Films, both titled 'Painting with Impact', were produced in 2010. A sixth book and eighth film, both on 'plein air' works in oils and watercolours, entitled 'Painting on Location' from Pavilion Books and APV Films were produced in 2013.
A regular exhibitor at the Richard Hagen Gallery in Broadway, Worcs., David also exhibits in all the major National Society exhibitions and has work held in private collections, both nationally and abroad.
Taught life drawing and ' atelier' workshops at Doncaster College of Art, 1985 – 1990.
Elected to the Board of Governors, Federation of British Artists, London 1991-1994, and 2009 to 2015.
Elected Member RSMA, 1983, Vice-President 2018
Elected Associate ROI, 1987
Elected Member ROI, 1988
Joined the selection committee for the Singer & Friedlander/Sunday Times Watercolour Competition in 1998, and Singer & Friedlander Isle of Man in 2004.
Patron of the Pure Watercolour Society, Windrush House
Editorial Consultant for 'The Artist' magazine
Senior Judge at the Patchings/Artist & Leisure Painter Annual Open Exhibition
Works held in permanent collection in the Ferens Art Gallery, Hull; Doncaster Museum and Art Gallery; and in the Cusworth Hall Museum, Doncaster; and Singer Friedlander plc, Bishopsgate, London.
EXHIBITIONS
Royal Academy Summer Exhibition 1982-86 incl., '92 & '93, 2002, 2006 & 2008 
RWS Open Exhibition of Contemporary Art 1985, '86, '90, '91, '93 & '96 
Royal Society of Marine Artists 1981 – to date 
Royal Institute of Painters in Watercolour 1981 – 1995 incl. 
Royal Institute of Oil Painters 1987 – to date 
Royal Society of British Artists 1988 & 1992 
Royal Society of Portrait Painters 2001 
'Hunting Group' Finalists Exhibition, Mall Galleries 1983 & 1985 
Mystic Maritime Gallery, Mystic, Connecticut, USA 1988 and 2001 
Eton College – mixed exhibition 2004 
Hallam Gallery, London – ROI 1988 & 1989 
Spinks Gallery, London – ROI 1989 
Francis Iles Gallery, Rochester, Kent – Spring Exhibition 1983 
Wykeham Gallery, Stockbridge, Hants – Three Man Exhibition 1990 
The Forbes Gallery, Fifth Avenue, New York – RSMA 2001 
Century Galley, Datchet – ROI 1992 – 2000 
NEAC Annual Exhibition, Mall Galleries 1992 & 2004 
Henley Royal Regatta Exhibition 1996 – 1999 
Richmond Gallery, Cork St., London – ROI 1993 
Brian Sinfield – British Waterclours Exhibition 1994 
Tyron & Swann, Cork St, London – Four Man Exhibition 1996 
The Discerning Eye Exhibition, London 1997 & 1998 
Minster Gallery, Winchester 2010 
Mall Gallery, Pure Gold Exhibition 2011 
Richard Hagen Limited – Regular Exhibitor 1985 – 2021 
– One Man Exhibitions 1990, '91, '93, '95, '97, '99, 2001, 2003, 2005, 2007, 2010, 2012, 2014, 2016, 2018 and invited artists 2019 and 2020 
Patchings Anniversary Exhibition – with Trevor Chamberlain and 2018 Bert Wright 
British Plein Air Exhibition, Menier Gallery, London 2018 
East Coast Plein Air Exhibition, Hartlepool Art Gallery 2019 
OTHER EXHIBITIONS
Sheffield National Open Exhibition 1975 – 1980 inc.
Ferens Winter Open Exhibition, Hull 1975 – 1995 inc.
International Amateur Art Exhibition, London 1968
Kendal Film Festival Art Exhibition (Prize Winner) 1980
RNLI Summer Exhibition, Whitby 1981 – 2000
Philip Francis Gallery, Sheffield 1979 – 1985 inc.
Mayfield Gallery, Sheffield
– One Man Show 1986
– Two Man Show with Bill Selby RWS ROI RBA 1987
Hibberts Gallery, Sheffield – Three Man Show 1978 Doncaster Museum & Art Gallery
– Two Man Show 1969
– Two Man Show with sculptor Byron Howard 1980
Castle Gallery, Ilkley, Yorkshire – Marine Artists Exh. 1984
Fylingdales Annual Exhibition, The Pannett, Whitby 1982 – to date
Two Man Show with Trevor Chamberlain, The Pannett, Whitby 2001
Regular exhibitor at Peter Barker Fine Arts and Adrian Hill Fine Arts
Regular exhibitor at the Staithes Gallery
AWARDS
Singer & Friedlander/Sunday Times Watercolour Competition
– First Prize Winner 1992
– Second Prize Winner 1997
– Third Prize Winner 1989, 1991, 1995
RWS – Collins Brown Award 1996
ROI – Stanley Grimm Memorial Prize Winner 1991, 1997 & 2011, 2017
ROI – The Roberson Award 1998
ROI – The Alan Gourley Memorial Prize 2003
ROI – The Le Clerc Fowle Medal 2003, 2008 & 2020
ROI – The Frank Herring Award 2004
ROI – The Dartington Chrystal Award 2011 & 2019
RSMA – The Worshipful Company of Shipwrights Award 2002
ROI – The Cornellison Award 2012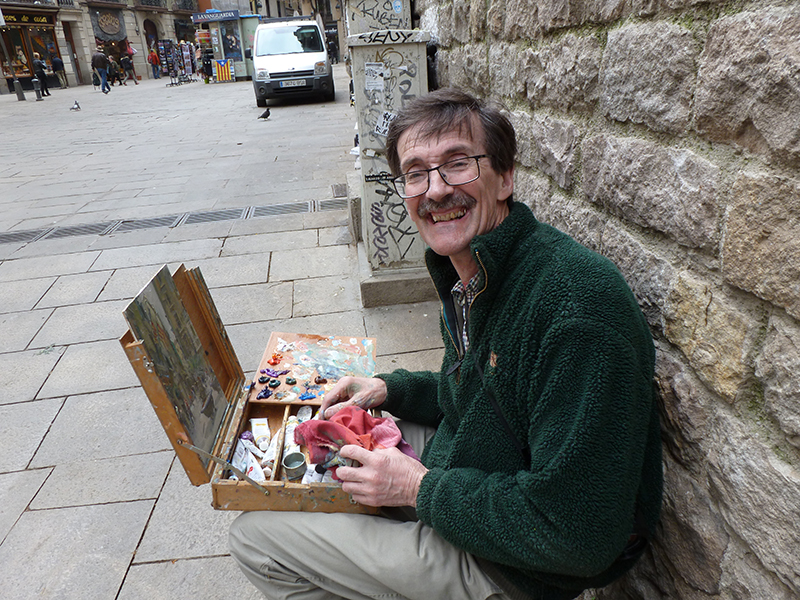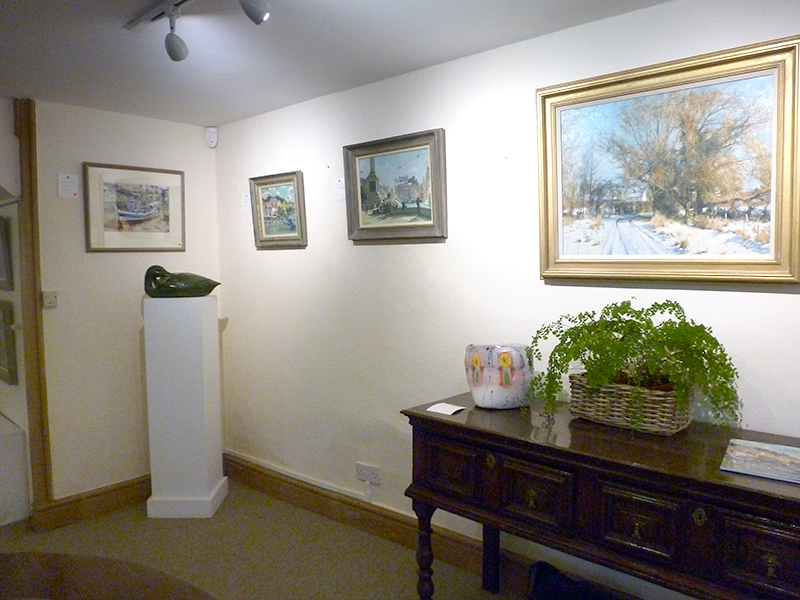 COMMISSIONS & COLLECTIONS
Works are currently held in private collections in Britain and abroad, including in the USA, Canada, Belgium, France, Greece, India, West Germany, Australia, New Zealand and Hong Kong.
Included works for the following:-
The Rockefeller Institute, New York
British Gas
HM Crown Commissioners
National Coal Board
British & Commonwealth Institute
Whitbread Breweries
CWS Ltd, Manchester
Matthew Gloag Ltd
Quarto Publishing Plc
The Portman Estate
Brook Crompton Motors Ltd
Royle Publications
Grenville Gibbs Corporate Art
Mortimer Publishing Ltd
The Bucentaur Gallery, London
Panasonic UK Ltd
The Cavalry & Guards Club, Piccadilly
Cadburys-Schweppes Ltd
Papachristidis Ltd, Shipping Lines
Andrew Lloyd Webber
Turnbull Scott Shipping Co. Ltd
John Cleese
Richard Curtis
Jeremy Clarkson
Medici Publications
Shell UK Ltd
Henry Ling Publications
Girobank
David & Charles Publishers
Historic Scotland
The Robertson Collection
Harper Collins Publishers
The Artists' Publishing Co. Ltd
London Contemporary Art
Castlebar Graphics – Limited Edition Prints
The Paper House Group
The Paper Rose Group
The Caravan Club of GB.
The Open University
The Duke of Lancaster's Regiment (Presentation of the Colours by HM The Queen 2008)
WORKS HELD IN PERMANENT
COLLECTION IN:
The Ferens Art Gallery, Hull.
Doncaster Museum and Art Gallery.
Cusworth Hall Museum, Doncaster.
Singer Friedlander plc, Bishopsgate, London.
The Pannett Art Gallery and Museum, Whitby.